By Cam Tait – Oilers Entertainment Group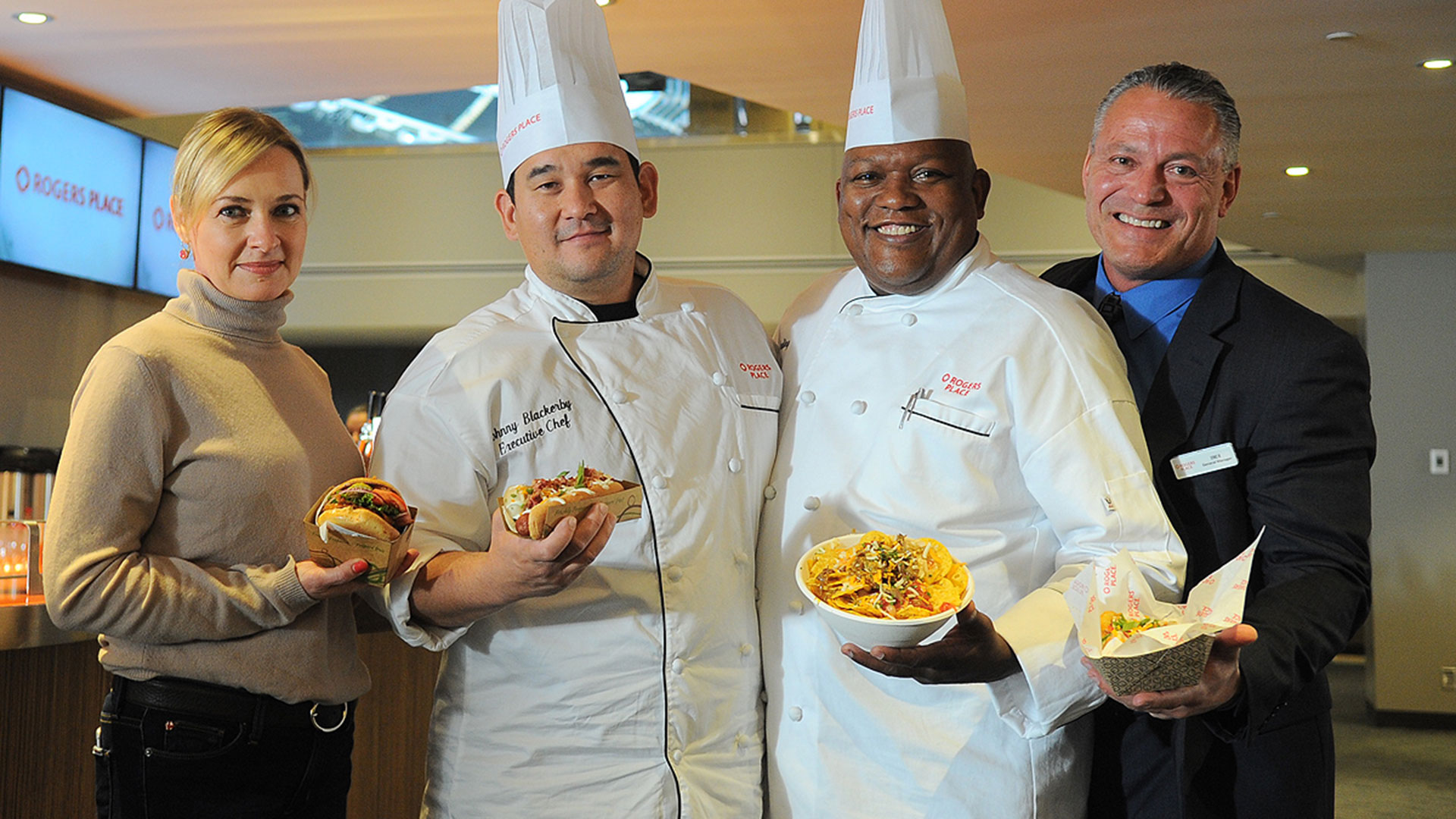 Eric Bayne has a challenge for hungry people going to Rogers Place.
Take a risk.
Eric was hired through Aramark and is the Rogers Place Food and Beverage General Manager. Aramark is the food and beverage provider for all of Rogers Place, tasked with providing fresh, diverse and locally-inspired food, with an Edmonton flair. He's responsible for setting the tone — but perhaps, more importantly, the taste.
"Try something out of your comfort zone. Eat a hot dog on your first visit, then take a chance on something new," Eric said.
"We have a wide variety of offerings and are working with a number of local purveyors to incorporate a distinct and local flavor."
Eric joined Oilers Entertainment Group in February after working in the culinary program at American Airlines Center as Director of Operations in Dallas, Texas.
But packing to head north to be part of the Rogers Place team was an easy decision.
"The opportunity to be a part of this world-class facility and help create something special for the City of Edmonton was not an opportunity I could pass on," Eric said.
"After meeting with (OEG Vice-Chair and CEO) Bob Nicholson and hearing his vision for Rogers Place, my bags were packed."
Eric, too, has a vision for Rogers Place.
"Rogers Place needs to be more than just a place where people come to see a hockey game or a concert. Edmonton deserves a place where people can come to relax, get excited, have fun and enjoy great hospitality and great food," he said.
And Eric certainly knows his food.
At the age of nine Eric turned the tap on to become a dishwasher in a restaurant. Years later he attended Catawba College in North Carolina before starting his career in 1988.
"Miami got their National Basketball Association (NBA) franchise and I was lucky to gain a position with the Miami Arena. I have worked in public assembly facilities for the past 30 years and couldn't imagine doing anything else."
And that gets us back to a hot dog at a sporting event. Put the two together … you can't beat that.
Speaking of unbeaten…
"It was 1974, I was seven years old," Eric said of the first time he had a hot dog at a football game.
"I was truly blessed, growing up in southern Florida. My father had season tickets for the Miami Dolphins (of the National Football League) who played at what once was the Orange Bowl.
"That year, the Miami Dolphins set a record that still stands today — the perfect season. They won every single game they played, all the way through the playoffs including the Super Bowl. I love a great hot dog, the history and the memories they bring back. I'm thinking of my father now, wishing he was here today to have a hot dog with me at Rogers Place."
To leave a comment or say hi email ctait@edmontonoilers.com