By Kelli Gustafson – RogersPlace.com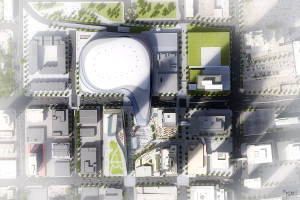 From low flow efficient water fixtures, to 12 Alternative Fuel Vehicle electric charging stations, Rogers Place will fully embrace Green operations, with a focus on sustainability and energy reduction.
"With a building like [Rogers Place], it just makes sense!" commented Edmonton City Councillor, Scott McKeen.
"It's something we can be proud of as a community. This building — this iconic building in our downtown — is setting a standard for energy efficiency that others now have to follow."
Rogers Place is the first NHL facility in Canada to be LEED-silver certified (Leadership in Energy and Environmental Design), and the second in North America.
"We are confident that there is a recognition of the importance of environmental responsibility emerging across the NHL," said Bob Black, Chief Project Development Officer for Oilers Entertainment Group (OEG).
"This was something where there was a complete synergy of viewpoint between us and the city of Edmonton."
LEED-certification is a global program that uses a rating system, awarding points, based on the environmental design, construction and operations of a building. Points are awarded for different environmental initiatives, such as locally sourced materials and resources used in the construction. The level of LEED-certification depends on the total amount of points obtained by a building.
Levels of LEED-certification:
Certified 40-49 points
Silver 50-59 points
Gold 60-79 points
Platinum 80-110 points
The City of Edmonton requires that all new city buildings being constructed are a minimum of LEED-silver certified. Although this is a city mandate, it is a position that OEG has continued to support.
"This was something where there was a complete synergy of viewpoint between us and the city of Edmonton," Black added.
"The Oilers Entertainment Group has always embraced LEED, and in fact have had many of the leaders in the LEED environmental science movement for sports facilities [as a part of the organization]."
One of these leaders, Black says, is Mike McFaul — Assistant GM, Facility Operations for Rogers Place.
"Mike was one of the early leaders in the Green programs for major sports across North America, and was one of the early proponents of the Green Sports Alliance."
McFaul joined OEG in February 2016, where he now oversees plant operations, building maintenance, conversions, ice maintenance and operations, and building system operations at Rogers Place.
"In my experience, there is a perception that sustainability costs money. It doesn't, it's the complete opposite!"
As a founding member of Green Sports Alliance (GSA) — an organization dedicated to promoting sustainability and environmental consciousness amongst sports teams, leagues, and venues — McFaul is committed to ensuring both the construction and operation of Rogers Place continue to lead the way in sustainability within the community.
"It's our plan to have the same responsibility as we go into operation as well," McFaul said, adding that Rogers Place strives to maintain high-performance operations even after the building opens.
"Whether that's Green cleaning, the landfill diversion program, [or] local food sourcing, it demonstrates social responsibility."
Social responsibility aside, McFaul also commented on the cost reduction that sustainable efforts offer during the construction and operations of a facility.
"In my experience, there is a perception that sustainability costs money. It doesn't, it's the complete opposite!"
City Councillor McKeen agrees, saying, "it absolutely makes sense for operation costs."
An achievement everyone is proud of, is the amount of waste being kept away from the landfill — 87 per cent of construction debris has been recycled.
Black commented on this achievement, saying, "This is a tremendous accomplishment, and would certainly not be typical [of other construction sites]."
Furthermore, nearly 20 per cent of all materials that are being used in the construction of Rogers Place are from recycled, or contain recycled content. Such materials include metal panels, steel and carpeting.
"There are [LEED] points for both use of local materials and use of recycled materials," said Black.
Rogers Place is also qualified for LEED points based on its location in the downtown core. This location not only improves density, encourages walkability and reduces infrastructure needs, but it also optimizes the use of the city's public transit system.
"One of the great things about bringing Rogers Place into the downtown core was that, by doing so, the city is better positioned to really leverage its multi-billion-dollar investment in light rail transit (LRT)," added Black.
Once Rogers Place construction is complete, there will be seven LRT stops within a 10-minute walking distance to the front doors of the arena, as well as easy access to bus services.
"The more energy you can bring into the core, the more people you can bring into the core, the more that you optimize the return on that investment — by encouraging people to use public transit, in particular the LRT."
For those looking to find out more about LEED certification, visit the Canada Green Building Council website.