By Kelli Gustafson – RogersPlace.com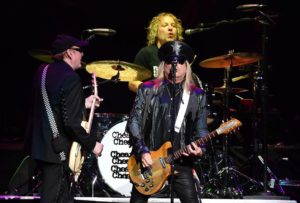 Following back-to-back Coldplay concerts earlier this week, Rogers Place was yet again a packed house on Thursday, hosting Nickelback's Feed The Machine tour.
But before the Alberta-native band made their grand appearance, American rock band Shaman's Harvest warmed the stage up, followed by Rock & Roll Hall of Fame icon Cheap Trick. Known for their hit singles like, "I Want You To Want Me" and "Surrender," Cheap Trick is no stranger to the spotlight, touring for the past four decades. Showcasing a multi-neck guitar during their final song, the band amped up the audience — in both senses of the word — for the night of rock that was still to come.
As the house lights were brought down — signaling the main act and triggering an eager roar of the crowd — lead singer Chad Kroeger, bassist Mike Kroeger, guitarist Ryan Peake and drummer Daniel Adair casually walked out on stage.
Opening with the title track from their ninth studio album — "Feed The Machine" — the band did not waste any time before returning to their early classics, much to the crowd's delight.
Originating from Hanna Alberta, Chad commented on their homecoming, saying, "It's nice to be back in Alberta… speaking of being in our home province, we should sing a song about home."
Taking this as the cue for "Photograph," originally released in 2005 and peaking multiple charts at number one, the audience erupted in a loud cheer before the 15,000-person sing-along ensued.
Seemingly comfortable in his home province setting, Chad took a moment to hug an audience member, sing happy birthday to another and even recognized someone near the front row from his hometown. But the highlight of the night was when Kroeger invited two audience members to join the band on-stage to sing "Rockstar" — each dancing alongside the lead singer with their own microphones.
Adding to the fan-favourites, "Someday," "All The Right Reasons" and "Animals" kept the audience on their feet for the remainder of the night before an encore of "Gotta Be Somebody" and "Burn It To The Ground" ended the show.
As the music fades at Rogers Place, the ice will resurface as the Oil Kings look to take on the Lethbridge Hurricanes tomorrow night at 7:00 PM. For all this and more upcoming events at Rogers Place, visit: RogersPlace.com/events
Setlist:
Feed The Machine
Woke Up This Morning
Photograph
All The Right Reasons
Too Bad
Someday
Lullaby
This Afternoon
Song on Fire
Something in Your Mouth
Rockstar
Hotel California (The Eagles cover)
When We Stand Together
Animals
Figure You Out
How You Remind Me
Encore:
Gotta Be Somebody
Burn It to the Ground