The Oilers have advanced to the second round of the 2022 Stanley Cup Playoffs and Edmonton's ICE District will be the epicentre of post-season excitement. Here's everything you need to know before coming to an Edmonton Oilers Home Playoff Game at Rogers Place.
As a reminder, you can access your tickets via your Account Manager or Mobile Account Manager to manage or forward seats at any time.
For the best experience, iPhone users should add it to their Apple Wallet.
| | |
| --- | --- |
| Ford Hall | Open |
| North Entrance | Open |
CONCOURSE PASSES FOR OILERS FANS
INTRODUCED FOR BATTLE OF ALBERTA GAMES IN ROGERS PLACE
The Edmonton Oilers today responded to unprecedented demand from fans hoping to be inside Rogers Place for Oilers home games, by making available a limited number of Concourse Passes for Oilers Fans for each Oilers home playoff game.
The Concourse Passes for Oilers Fans will allow Oilers fans to enter Rogers Place and be part of the atmosphere by viewing the game from the concourse on the concourse video walls or on the screens inside Studio 99 after puck drop. Concourse Passes do not provide access to a view of the arena bowl or ice surface.
Concourse Passes for Oilers Fans will not be available online, and will go on sale at the entry gate adjacent to the Rogers Place Box Office 90 minutes before game time, and will only be available up to puck drop or while supplies last. Fans purchasing Concourse Passes will be required to enter the arena immediately upon purchase.
Concourse Passes for Oilers Fans will be available at $100 each plus ticket fees and will only be sold to fans wearing Oilers apparel at time of purchase.
Molson Hockey House Watch Party
Ford Hall will be open for fans to enjoy home and away games from an expanded Molson Hockey House, and also for post-game festivities with DJs and other live entertainment.
Molson Hockey House will open two hours before puck-drop on game days and entry is free of charge. Space is limited so fans are encouraged to arrive early to secure a spot. Proof of vaccination is not required for entry.
Fans can now access Rogers Place from downtown through the ICE Plaza and ICE Plaza entrance doors at the foot of Ford Hall. The ICE Plaza doors will be fully open from 6:00 AM to 12:00 AM daily.
To access Rogers Place through the ICE Plaza enter the plaza from 103 Avenue at 103 Street or from Plaza Way and 102 Street next to the JW Marriott Hotel. In addition, the Downtown Edmonton pedway system is fully open to Rogers Place via the overpasses from Edmonton Tower and Stantec Tower are fully open and directly connected to Rogers Place via Ford Hall.
ICE District Plaza will be open through to the end of the game and entry is free of charge. Space is limited so fans are encouraged to arrive early to secure a spot. Proof of vaccination is not required for entry.
Ford Tailgate Party at ICE District Plaza
For home playoff games, the Oilers are excited to present the Ford Tailgate Party live from ICE District Plaza. Located in the heart of downtown Edmonton, at the confluence of Rogers Place, the JW Marriott Hotel and Stantec Tower, ICE District Plaza will be the epicentre of playoff excitement.
The tailgate parties will include live entertainment from The Barkells and the Oilers Drum and Brass, hot food, cold beverages, appearances from team mascot Hunter, Playoff game and concert ticket giveaways and the game on the big screen so fans can cheer on the Oilers.
Studio 99
Located inside Rogers Place, Studio 99 offers elevated sports bar dining, both a-la-carte and buffet style.
Walk-ins are welcome and open to anyone with a valid event ticket.
To ensure your spot click here to book your table or call 780-664-0384.
Merchandise
Starting Saturday, April 30, fans will be able to purchase exclusive Oilers playoff gear at the ICE District Authentics Playoff Shop located in Ford Hall adjacent to the Rogers Place Box Office.
Playoff Shop hours will be 12-6PM  on weekend non game days, 12-8pm on weekday non game days and 12PM to puck drop on game days.
Playoff gear is also available for purchase via ICEDistrictAuthentics.com
Playoffs Mega 50/50
POWERED BY PEPSI & 630 CHED
IN SUPPORT OF THE EDMONTON OILERS COMMUNITY FOUNDATION
The MEGA MULTI-DAY 50/50 is BACK and BIGGER than ever! This 50/50 is in support of the Edmonton Oilers Community Foundation and runs until Tuesday, May 34 until 11:30 PM MT. ALSO, the EOCF has a great offer for you! Purchase $100 in Oilers 50/50 tickets and get a $25 Canadian Brewhouse & $25 Boston Pizza gift card!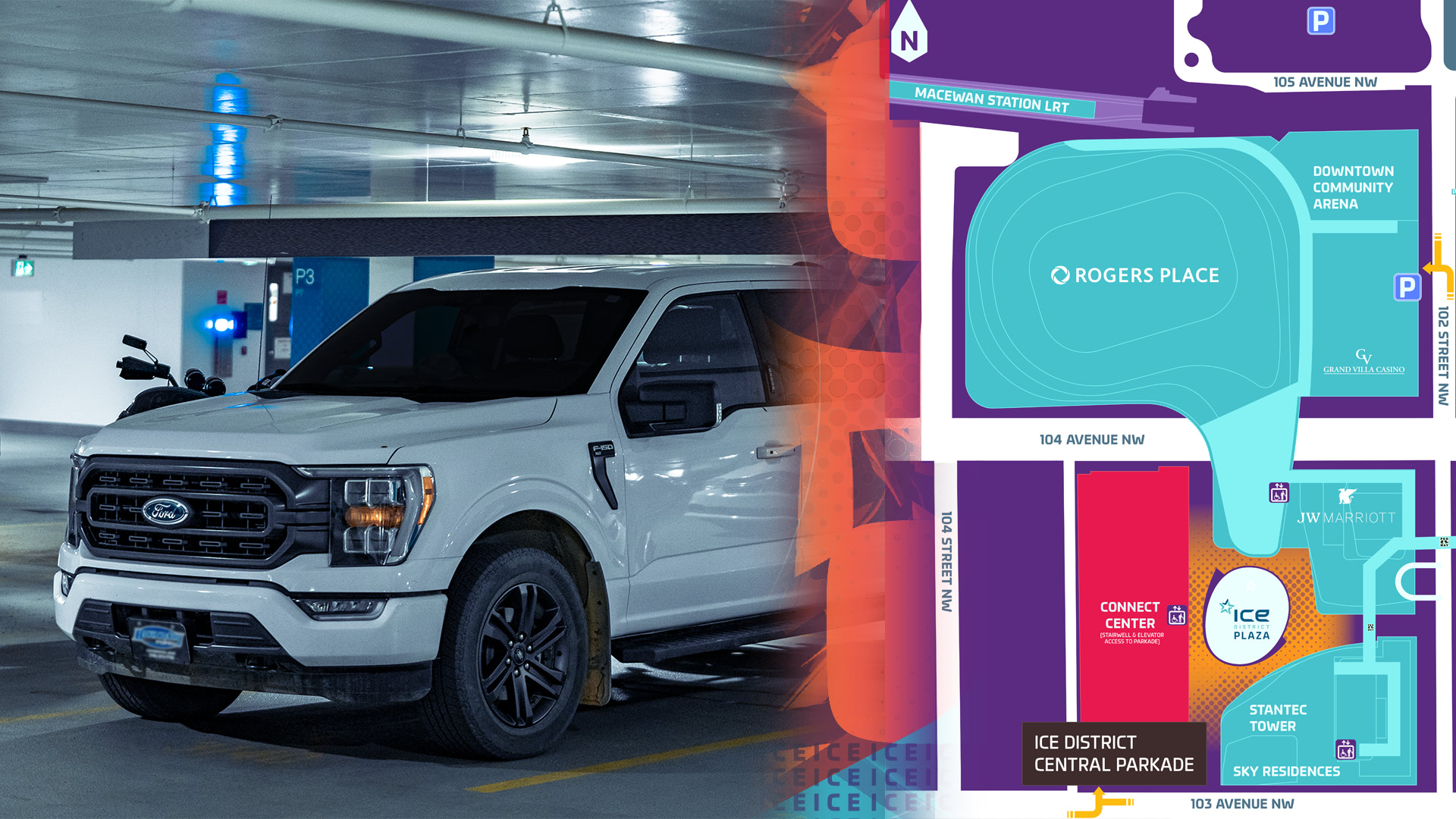 ICE District Central Parkade
Brightly lit & security patrolled, the ICE District Central Parkade has hundreds of heated spaces and convenient access to Rogers Place and located on the north side of 103 Ave just west of 103 St. The parkade offers 6'10" (2.08 m) clearance and quick indoor access to Rogers Place via the ICE District Central Parkade P1 elevator or through the Stantec Tower Level Two pedway.
The Connect Center Lobby is now open for access to and from Rogers Place via ICE District Plaza!
As per the Government of Alberta and Alberta Health Services' current protocols, proof of vaccination is not required for this event.
As per the Government of Alberta, Alberta Health Services and the City of Edmonton's current protocols, masks or face coverings are not required for this event.
To ensure a safe environment for fans, bags larger than 12″ x 12″ x 6″ (i.e. backpacks, suitcases, beach bags, etc.) are prohibited from entry into Rogers Place. All other bags will be permitted after a physical inspection of its contents.
To assist with entry into Rogers Place with a medically necessary bag, please contact our Ticketing & Customer Services Team in advance of the event at 780-414-4625 or info@rogersplace.com.
Rogers Place is committed to providing guests the safest and most secure environment. Exiting and re-entering the building will not be permitted at Rogers Place. Once a ticketed guest has been scanned into Rogers Place, guests cannot exit the building and return during the event.

Smoking & Cannabis Policy
For the enjoyment of all of our guests, Rogers Place is a smoke-free environment. All forms of smoking, including the use of cannabis products and electronic cigarettes (vaping), is not permitted on Rogers Place property. Please be aware that guests will not be permitted to exit and re-enter the venue during events.
Rogers Place eNews
Sign up now for the latest entertainment news from Rogers Place, delivered straight to your inbox!
During all Rogers Place events, guests will be able to text 587-207-HELP (4357) along with their location and concern to speak to an on-site Rogers Place representative.
For all Rogers Place venue information, including security, food & beverage, parking, pick-up/drop-off options, camera policy, etc., please review our A-Z Guide.
Rogers Place recommends all guests requiring assistance contact the Rogers Place team at 780-414-LIVE (5483) in advance of their visit.
To purchase accessible seating for all events at Rogers Place, please visit Ticketmaster.ca and click on "Request Accessible Tickets" or call Ticketmaster at 855-682-6736.
If you have arrived at Rogers Place and you do not have accessible seating but require it, please visit any of our Guest Service Centres located behind Section 121, Section 129 and Section 230.
Rogers Place is fully accessible with elevator access to all seating levels.
Rogers Place accessible seating locations:
100 Level: 102, 103, 105, 117, 119, 120, 124, 132
Scotiabank Suites Level: All Suites and Theatre Boxes
PCL Loge Level: 9, 16, 26 and Sportsnet Club
200 Level: 203, 211, 220, 224, 232 and Sky Lounge
The number of accessible seats may vary by event according to the seating configuration.
All wayfinding signs at Rogers Place have Braille lettering to better assist our visually impaired guests.
Additional information for our accessible guests is available below:
Please see Drop-Off Zones/Designated Pick-Up Areasfor more information.
Please see Assisted Listening Devices section for more information.
Please see Wheelchairs below for information about wheelchair assistance.
Whether you plan to take the LRT, bus, drive or walk, find the best routes to Rogers Place here: RogersPlace.com/getting-to-rogers-place/.
The Downtown location makes Rogers Place easily accessible by transit, with over 40 bus routes and 5 LRT stations within walking distance from the arena. For more information on transit, visit takeETS.com/Downtown.
For the safety and security of all Rogers Place guests and employees, the following items are not permitted at Rogers Place:
Weapons or replicas of any kind including but not limited to:

Guns, firearms, ammunition, stun guns
Self-defense sprays, fuels, torches, lighter fluid
Bats, brass knuckles, batons, martial art weapons
Knives, razor blades, box cutters, scissors, tools
Explosives, aerosols and fireworks

All bags, backpacks, and purses – small clutches and wallets are still permitted
Illegal drugs, illicit substances or prescription narcotics in non-labelled containers
Umbrellas
Cameras with lenses longer than 3" (detachable or non-detachable)
Video cameras and the use of video capable devices such as GoPro
Tripods, selfie sticks, telescopic or similar devices
Items intended to create an optical distraction (laser pointing devices)
Aerosol cans or noisemaking devices, whistles, cow bells, air horns and plastic horns such as vuvuzelas
Any size pole or stick, including those associated with banners or flags
All outside food and beverage
Projectiles including, but not limited to, inflatable balls, frisbees and hula hoops
Non-service animals
Seat cushions, portable chairs
Roller blades, skateboards, scooters and bicycles
Drones (unmanned aircraft systems) or other model aircraft
Inappropriate attire or signage including all gang affiliations
Rogers Place reserves the right in their absolute discretion to deny access for any item(s) deemed disruptive or a safety concern.
All prohibited items must be appropriately disposed of prior to entry to Rogers Place being granted.