By Cam Tait | Oilers Entertainment Group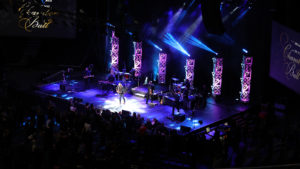 Janet Riopel's observation of Edmonton's new downtown arena couldn't be more on the mark for the future.
"Rogers Place is so much more than just a place for sporting events and concerts," says Riopel, President and CEO of the Edmonton Chamber of Commerce.
Her comments are timely, testifying just days after the annual Chamber Ball was held on January27 at Rogers Place. Organized by Oilers Entertainment Group, more than 1,200 local business leaders and their guests were welcomed into Rogers Place, enjoyed a fine dining experience and then capped it off with a concert from country recording artist, Johnny Reid.
"The idea came as a result of a discussion I had with OEG Vice Chairman Bob Nicholson in early 2016 and long before Rogers Place was completed," Riopel says.
"We talked about how exciting it would be to introduce the very first black-tie gala at the arena, and how much fun it would be to work together to introduce leaders and difference makers in the community to this gorgeous new facility in an entirely different way."
It certainly was.
The evening began with a reception on the Rogers Place arena floor. The Oilers Hall of Fame Room, Oilers Dressing Room corridor and Chairman's Club were open for guests to experience.
"For many, this will be a once-in-a-lifetime experience that will not be forgotten. I feel that this shone a whole new light on the way Rogers Place will interact with our community," Riopel says.
During the reception OEG received the Northern Lights Award of Distinction. The award honours organizations that have made a positive and lasting impact in the community.
"OEG continues to make strong and sustainable contributions towards the revitalization of Edmonton's downtown core and, in the process, has fueled the engagement and imagination of many others," says Riopel.
"They've also made very meaningful contributions to our broader community through the Edmonton Oilers Community Foundation, a foundation with a track record of making an impact in every project they take on…in every cause they support."
Nicholson said the award was a team effort.
"OEG winning the Northern Lights Award of Distinction was a very special moment to be able to receive this on behalf of all our staff," Nicholson says.
After the reception, the party moved upstairs for dinner in Ford Hall, with some of the best beef tenderloin many guests had ever tasted. The staff from Aramark — the company who provides food and beverage service in Rogers Place did a remarkable job.
After dinner, the arena floor transformed into a dance floor as Reid took to the stage.
"I thought the evening was excellent," Nicholson said. "Being on the arena floor was a special place for the award ceremony. The food and atmosphere during dinner was tremendous, and the entertainment with the great sound system at Rogers Place was fantastic."
Nicholson said there will be more events like this to come at Rogers Place. But said what's in store heading into the future will be bigger and better.
"We will be doing an extensive de-brief with the Chamber and their staff. Rogers Place Vice-President and General Manager Susan Darrington and her staff will also continue to dissect all of the little things that we may have missed in order to take the Chamber Ball and other events like this to another level."
In the end, everyone went home happy.
"The moments I spent with my teammates after the guests departed — where we were so exhausted yet so pleased with the results we worked so hard for — those were definitely rewarding and great moments," says Riopel.
Creating I Remember Moments…the mission and foundation of OEG.
(To make a comment or say hi email ctait@edmontonoilers.com)